Spanish croquetas are one of my (and my kids') favorite Spanish foods. They are labor intensive, but not that complicated to make. You can prepare them vegetarian (mushrooms, for example) or with just ham, or my favorite, ham and chicken. I like to use left-over chicken after we've had roast chicken and only little pieces are left. If I have good ham, I use that, otherwise I use lunchmeat. This is a great recipe to experiment with and develop you own favorite kind. Remember, cooking is a fun, creative process. (And don't forget to add the love–it makes everything taste much better!)
Ingredients for béchamel:
4 cups milk
3 heaping tablespoons flour 1 tablespoon butter Pinch of powdered nutmeg
Other Ingredients:
You will also need whatever you will use for the filling (ham, cooked chicken, mushrooms—whatever.)
And you will need a plate of flour, a well-beaten egg in another dish, and bread crumbs in a third dish.
1. First you need to make the béchamel paste. Place all of the ingredients for the béchamel into a pot over medium to low fire, and stir constantly until volume is reduced and you are left with a paste. If you develop lumps, use a whisk or soup blender to remove them. In the 4th picture you can see how stiff the sauce has become.
2. Add mushrooms* or cooked meats, chopped finely or whatever ingredient you want and mix with béchamel paste. (Pictured here, I've added ham and chicken.)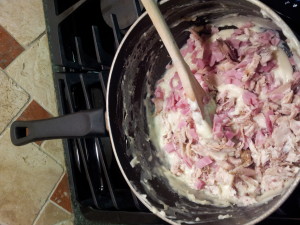 3. Spread the béchamel in a large, flat container and allow to cool completely. The béchamel will be a soft solid. (You can refrigerate for a day or two at this point, in a well-covered container.)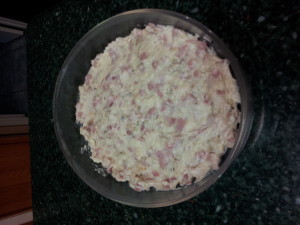 4. When you are ready to continue, set up your work station on a largish surface. You'll need a plate with flour, a dish with a beaten egg, a plate with breadcrumbs, and a clean plate on which to place the croquetas when you finish.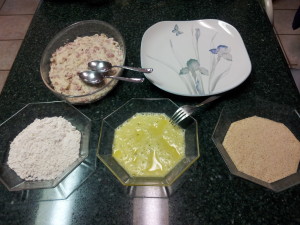 5. Scoop about a tablespoon worth of béchamel into a tablespoon, then use another tablespoon to catch that scoop. Moving the béchamel dough between the two spoons, shape the croqueta. (This takes a little practice, but it's much better than shaping them with your hands and getting completely gooey. Time for that later!)
6. Place this croqueta in the flour mixture. Once you've added several to the plate with flour, gingerly pick one up and roll it in the flour until it is completely covered. Then transfer it to the plate with the egg.
7. Using a fork, gently roll the floured croqueta around in the egg until it is completely covered. Then gently pick it up, being careful to let the excess egg drip off into the plate, and then transfer to the plate with breadcrumbs and roll it in there until it is completely covered. Then gingerly pick it up again, and roll it very gently between your palms until the entire surface is evenly coated with breadcrumbs. (This is the gooey part that's unavoidable, though with practice your hands won't look like you've been playing with your food.)
8. When all the croquetas have been floured, passed through the egg and breaded, fry at medium heat until golden. Use about ½ inch of oil in the pan (I use canola oil) and cook for just a couple of minutes on each side.
9. Remove croquetas from oil and drain on a paper towel before serving. They are very nice with a white cheese (like a cured Spanish goat or sheep's milk cheese), a nice hard-crusted bread (I've had a lot of luck with the ones you finish baking at home, as pictured) and some olives.
*If you are going to use mushrooms, I suggest portabella or shitaki. Clean the mushrooms and chop into small pieces. Cook in a pan with very little olive oil, some bullion cube powder, and a piece of finely chopped garlic. Once they are soft, after 5-10 min. remove from heat and allow to cool before mixing with the béchamel sauce.