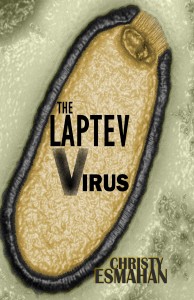 (I mean the book, not the virus!)
In case you've missed it, THE LAPTEV VIRUS is now available in two different formats: Kindle (99 cents) and paperback. In my last blogpost I gave you a sneak peek of the first chapter and I hope you're ready to read the rest now.
When you finish, I would love to have a discussion with you about your impressions. I've been fascinated by the reactions of my readers so far. While everyone seems taken by the ending, it's interesting to see what people think about the rest of the book.  How would you have reacted under those circumstances? What parts were your favorite?  Please share your thoughts with me by commenting on this blog, on my FB page and on the Amazon review page.
Also, if you wouldn't mind recommending my book to your friends and colleagues, I would very much appreciate it. Cheers!