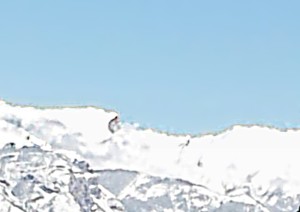 In the last decade, scientists have discovered viruses that are much larger than any viruses ever known before. They are called Megaviruses, or more correctly, Megaviridae. They are being discovered in remote parts of the planet, such as very deep in the ocean or tucked under thousands of years of ice, up in Siberia.
In March, 2014, Drs. Jean-Michel Claverie and Chantal Abergel and their team of researchers published a paper on their discovery of 30,000 year old virus in the scientific journal Proceeding of the National Academy of Sciences. This virus, named Pithovirus, was found in an ice core sample.
Why do we care about viruses frozen in the ice? Well, for one thing, people are actively digging up the ice. Many oil companies are drilling in the Arctic to access the rich petroleum reserves up there.
For another thing, the permafrost layers are melting.
All this digging and melting of the ice could free these viruses.
Viruses can be revived even after being frozen for thousands, perhaps millions of years. What would happen if one of these viruses was a human pathogen? Drs. Claverie and Abergel speculate that this scenario could occur.
And this is the premise of my latest novel, which, for now, I am calling THE LAPTEV VIRUS.
THE LAPTEV VIRUS is completely based in science, much like Michael Crichton's The Andromeda Strain or Jurassic Park. Some would say that more than science fiction, it could be called fictionalized science. Although I did not engineer it to be a thriller, it is definitely a page-turner and "in the suspense/thriller territory" as my editor and writing coach, Lauren Sapala put it.
Look for my novel to be published in the next month. When it becomes available, I will publish another blog post with the first part of the novel available for you to read. Meanwhile, you can read articles on the subject, such as this one from the LA Times  and follow announcements about the novel on my FaceBook page.